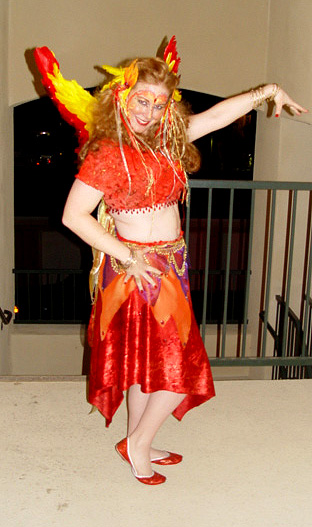 All this talk and prep for Labyrinth of Jareth had me thinking about older costumes I made for the event. LoJ is definitely one of my all time favorite parties to attend. Mainly because it gives me an opportunity to go a bit wild on some fantasty designs. Don't get me wrong, I love historical costumes! But sometimes I really need to go back to my roots and so something fantasy based.
Yes, I am a nerd.
I'm sure this was automatically established with the fact that I have a costume blog.
Anyways, I had a ton of different costumes I wore to LoJ; A Greek Nymph, the female version of Bacchus, a very thrown together steampunk fairy... But honestly, the fire phoenix is still my favorite.
This was back in the day when I was brave enough to expose my gushy belly to the world. Yes folks! Bask in the moon tan! Bask in it!
Okay, its not that bad but I am a pretty pale lass.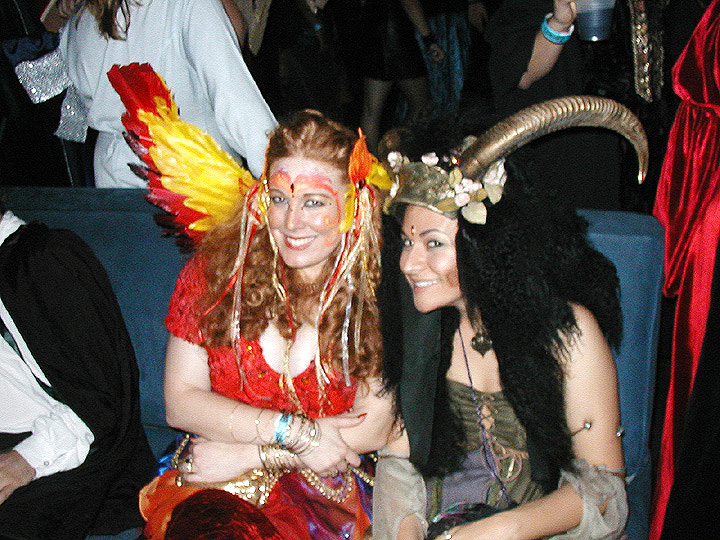 My two girlfriends Jennifer and Stephanie decided to team up for this even and go as a themed group. We started with the idea of the elements; fire, water, and earth. We had to leave air out since we lacked a fourth person. I chose fire mainly because my hair is red. Seemed like the natural choice! Jen chose water and Steph went with earth because of her vast collection of antlers...I kid you not.
The elements idea ended up evolving a bit more into mythical animals. I wanted wings. I knew that much. So I decided to turn my fire costume into a phoenix themed costume. The wings were fun to make. I just cut the base out of craft foam then covered the whole thing with red, yellow, and orange feathers. I wish I had a picture of the back of the wings because I had a large mass of ribbons, beads, and sequins all trailing down bellow them which I thought looked pretty spiff.
I went with a sudo Indian/belly dancer style for the look. The top came from a simplicity pattern I slightly modified. I managed to make the top self supporting. And trust me, for a big bosomed gal like me? That isn't easy to do. But I did it! The wings were fixed directly onto the shirt since they were so light. The skirt was built from overlapping panels that were cut to be shaped like flames. And the hair clips are a combo of painted craft foam, feathers, and ribbons.
Here's a picture of the three of us all together.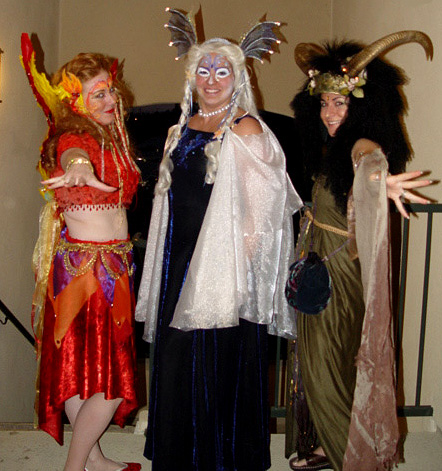 I really loved how all three of us turned out that night. I'd also like to point out that Steph did our face painting that night which turned out excellent.
Overall? A fun time!